The Trading Post is the on-site hub for trading.
Description
Edit
You've heard of the trading post quite a few times now. It seems like a famous and busy place, as just about everyone knows of it. But it's cooler looking than you expected! Walking into the trading post, you find many deals being struck, while an equal amount of deals are being rejected. The lively place encourages you to perhaps make a trade of your own.
The Trading Post is separated into three areas: Start a Trade, View Trade Requests, and Promocodes.
Start a Trade
Edit
The 'Start a Trade' section is, as the name implies, the area to create a new trade. Both private and public trades can be created here.
View Trade Requests
Edit
The 'View Trade Requests' section is where ongoing, cancelled and completed trades can be viewed. Ongoing trades can be cancelled from here.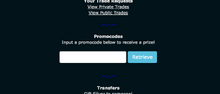 Promocodes
Edit
The 'Promocodes' section is the area to enter promotional codes.
Community content is available under
CC-BY-SA
unless otherwise noted.