Tales of Ostlea
celebrated its first birthday on the 8th of October, 2016. A new creature was released and several site updates went live, including a brand new
biome
map.
Further celebrations were held on the 18th of October, with the release of Zenith creatures.
Release announcements
Edit
8th of October
Edit
Hello my lovely Ostleans! Today is a very special day for us, Tales of Ostlea's very first birthday! To celebrate this wondrous occasion we've brought you a brand new permanent creature, a new site theme which can be found under your account settings on the main site and a brand new map can now be seen on the explore page! Though that's not all since Halloween also falls in this month we've planned plenty of other surprises for you guys so don't forget to check back!
A new discovery has been made in the world of Ostlea!
A new creature has taken up residence in the Elegema Forest where it will be mass dropping until 11:59 PM on Monday the 10th. This creature currently cannot be fed.
"You can hear soft mews coming from this smooth egg." Thank you to Infinis for this awesome new creature!
In addition to this new beauty a few oldies have returned to the Menagerie for the month!
Possessed Dracodolls and Teruterus are once again available and breeding!
Along with these lovelies all the past Halloween creatures are also in stock and available for 1 crystal each for those of you who missed out, hurry and get them while you can, they will be leaving the shop again at the end of the month!
18th of October
Edit
Hello grand adventurers of Ostlea! As part of our celebration of Tale of Ostlea's first birthday, we'd like to introduce a brand new permanent feature to our world: Zeniths! These mysterious beings are not easily obtained, but luckily catching up on your literature can help!
As well, to kick off our introduction of Zeniths, use the following Promo codes to reward you with your first orbs! Enter these codes over on the Trade Station
Mistral
Growth
Doused
Frigid
Creatures
Edit
New site theme
Edit
The first ever new site theme was released during the first birthday: the 'Birthday' theme. It features purples and cream colours, and is overall lighter and more colourful than the standard ('Main') theme.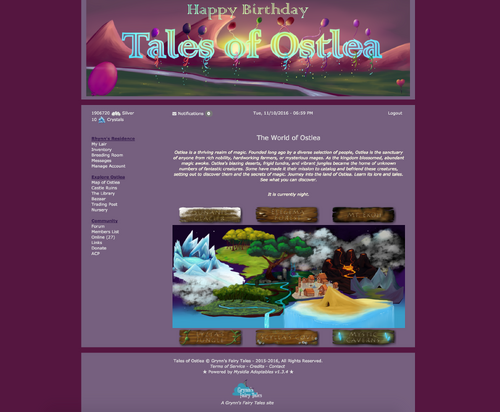 A completely new map created by Kristhasirah was released as well. It replaced the old Map of Ostlea. Along with this, the links to the separate biomes were replaced by wooden signs made by MonstrHugger.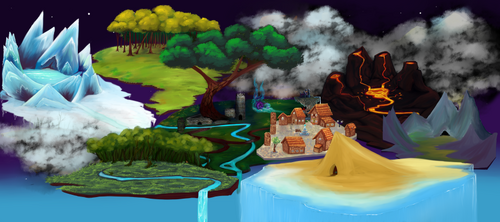 Community content is available under
CC-BY-SA
unless otherwise noted.